"I've got gadgets and gizmos a plenty...." -my girl Ariel
Errrmmm, moving on.... Here are a few of my favorite kitchen gadgets/tools! I figured I should start making some notes on what I like and don't like to use on the regular and tell all 10 of you about it!!! Which, by the way, thank you for humoring me by reading this blog.
I'll start with the big stuff: These are the mac-daddy kitchen essentials. Technically, you don't need these but they sure do make life a lot easier when cooking for your fam.
1.
Kitchen Aid Mixer
. LOOK AT ALL THE PRETTY COLORS THEY HAVE NOW. Y'all know what's up with this. I use this at least 3 times a week for pizza dough, pasta dough rolling and mixing, any excuse I have for using it, I usually do. I'm really interested in the ice cream maker attachment for it. Can you imagine!?!?!? I'd really be hurtin for a personal trainer then.
2.
Food Processor
- This hefty guy makes hummus, date bars, sauces, etc. It's the bomb. I use this weekly for my hummus (way cheaper than store bought) that I take to work (
will post recipe soon
). This chops veggies, slices potatoes, and so much more. There are some neat attachments I haven't tried yet, but my hibernation begins during winter when I only leave the house for work, groceries or wine, so that's probably a good time to try them out, right? I will report back.
Image via google
3.
A Great Set of Knives
A great chef, ahem....like myself, should always have a great set of knives. We have this set of Henckels. The key to a great, efficient knife is keeping it sharp. When you have a dull knife, you will know, that crap is majorly annoying. You technically should get your knives sharpened every few months or so. Which reminds me....
Also, I know these aren't the best of the best kind of knives around - but they work great for us and we try to take good care of them- which reminds me again....need to get these sharpened...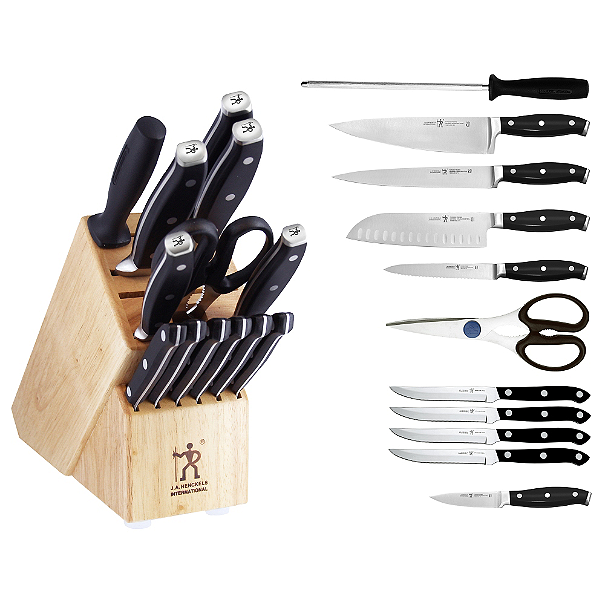 Image via Bed Bath and Beyond
4.
A Non-Stick Pan
. Seriously, one of the better "As Seen on TV" items I've encountered. I've said before, we are suckers for any "As Seen on TV" items. This pan cooks eggs like a DREAM. Omelettes, no problem. Pancakes? Check. This is a great pan for $20. I'm sure there are *better* pans out there, but this one fits us just fine!
Image via Target
5.
Spider
This guy is a dream for deep frying, pasta retrieval, grabbing veggies from boiling water, etc. I recently picked this up after a marathon browsing session at Williams-Sonoma. I could spend days in there, just can't spend all the monies. Boo. But, for $15, I had to have it.
Image via Williams-Sonoma
*update: I realize I say "like a dream" alot. I'm not even sorry about it.